Avionics
DAVID CLARK DC PRO-X2 DUAL GA PLUG HEADSET
---
Overview
The DC PRO-X2 Series is a next-generation version of the popular DC PRO-X Series headset line introduced by David Clark Company in 2012. The DC PRO-X2 Series is ideal for both general aviation (private) and commercial aviation (airline, corporate and transport) pilots that prefer the superior comfort, dramatically reduced clamping pressure and lightweight design (under 8 ounces) of a 'rest-on-ear' style headset.

DC PRO-X2 Series headsets also retain all of the features of the original DC PRO-X Series.

Note: This headset is not Bluetooth compatible.
Features
Automatic Gain Control (AGC) for optimum ANR performance in high noise conditions
Enhanced Auto Shutoff that virtually eliminates accidental loss of battery power
Slim profile, oblong-shaped dome that provides greater rest-on-ear headset stability
Specifications
DC PRO-X2 Models, Hybrid Electronic Noise Cancelling ANR Technology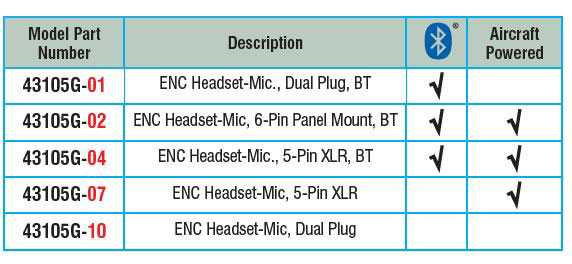 Benefits
Sleek, lightweight, supra-aural, rest-on-ear design
Hybrid ENC technology for best-in-class active noise reduction and audio performance
Advanced, noise-cancelling electric microphone for clear, crisp voice transmission
Soft, Outlast® technology, heat-absorbing head pad to help keep pilots cool and comfortable in flight.
Currently the only aviation headset available that incorporates this technology.
Plush, leatherette ear seals with memory foam for added comfort
Bluetooth wireless technology for seamless pairing with cell phones, tablets and music devices
Lightweight, compact, multi-function control module with mounting clip for attaching to apparel or any convenient location within the cockpit
Swivel hinge stirrup design reduces clamping pressure and fully adjustable headband assembly ensure a personal fit
Rugged, yet lightweight alloy suspension for outstanding durability
Collapsible, compact design for storage in its David Clark, soft-sided headset bag – leaving more room in pilot's flight bag
FAA TSO-C139a Approved
---
More from this collection